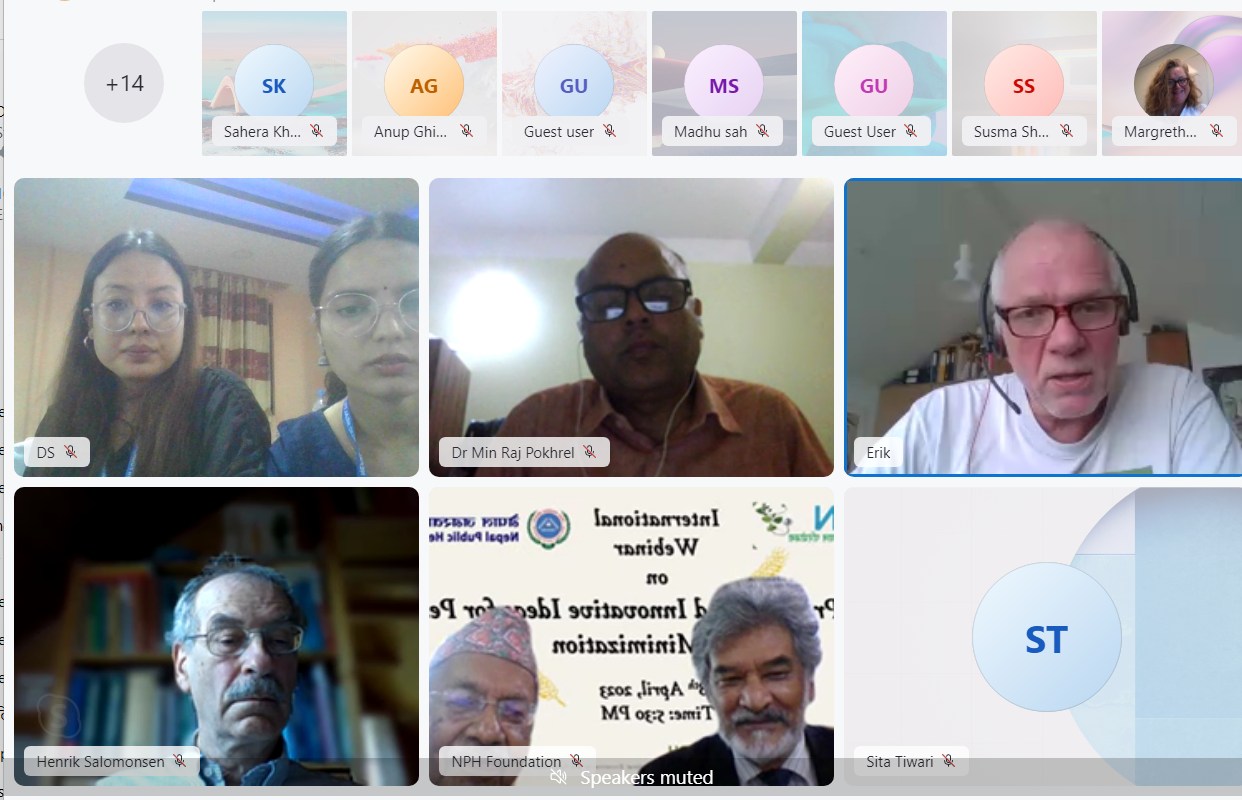 Farming, Health and Environment Nepal (FHEN) project, a collaboration between NPHF andI COEPH/DASAM, organized an international webinar titled  "Best Practices and Innovative Ideas for Pesticide Minimization" on April 28, 2023. The main objective of the webinar was to provide a platform for sharing different practices and innovative ideas to minimize pesticide use.
The program aimed to achieve the following objectives:
Sharing knowledge, ideas, and experiences regarding the issue of chemical pesticides.
Presenting international practices for pesticide minimization.
Discussing the current need to transition to organic farming.
Sharing innovative ideas for pesticide minimization and their suitability within the policy context of Nepal.
The webinar featured notable speakers who shared their expertise and insights on the topic.
The speakers included:
Prof. Dr. Eric Jørs MD, MIH, PHD Associated professor SDU ,Senior consultant OUH. He has been dealing with pesticide poisoning for the past 20 years, not only supporting efforts in Nepal but also in Uganda gave a presentation on ideas and practices for pesticide minimization.
Mr. SIHM Musfiqur Rahman Country Director Haychem (Bangladesh) Limited. He was also the Previous Chairman of Bangladesh Crop Protection Association (BCPA) and Previous Secretary General of BCPA. He also Played vital roles in PTAC – pesticide Technical Advisory Committee in policy making process along with Ministry of Agriculture gave the insights and experiences on practices and innovative ideas for Pesticide Minimization in
Context of Bangladesh.
Prof. Dr. Min Raj Pokhrel Associate Professor and Head of Entomology Department Faculty of Agriculture, Agriculture and Forestry University, Rampur. He has over 15 years of experiences in academics and research, and 7 years of experiences in working with bilateral and donor agencies in agriculture development in rural gave his presentation on practices and ideas for pesticide minimization.
The webinar served as a valuable platform for knowledge exchange, promoting pesticide reduction, and exploring innovative ideas to address the challenges associated with pesticide use in Nepal and beyond.