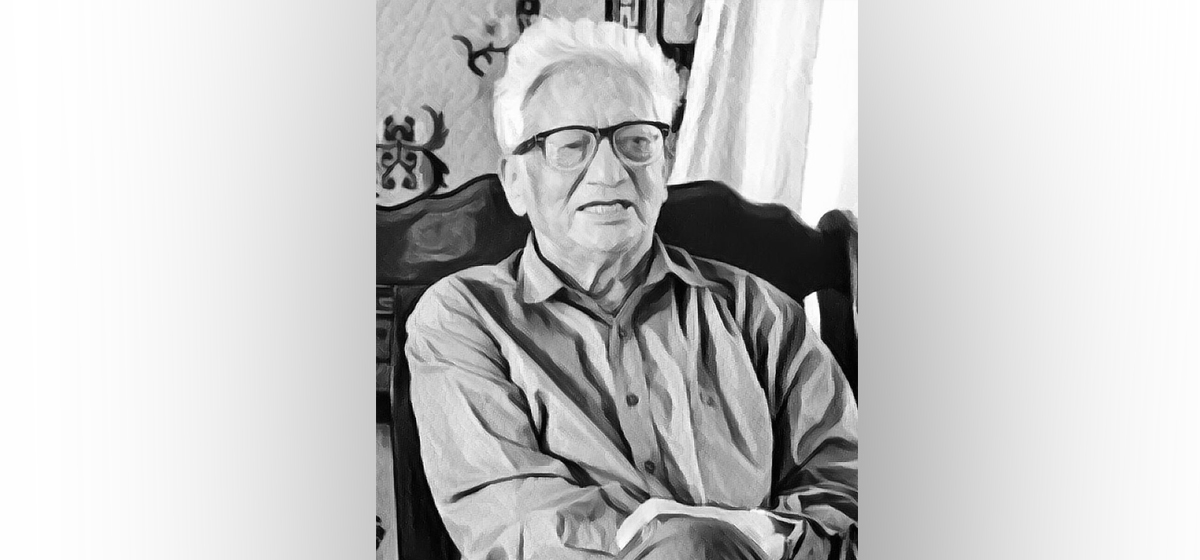 We are deeply saddened to announce the passing of Dr. Mathura Prasad Shrestha, a medical doctor, public health professional, human rights activist, intellectual, and a great teacher. He was rightly acknowledged as the Father of Public Health in Nepal, also having laid the foundation for public health education and research in the country. Dr. Shrestha was an active participant in the first and second historical people's movements in Nepal, fighting for the betterment of downtrodden people and the establishment of an equitable and humane society. He served as the former chair of Nepal Health Research Council (NHRC) and played a vital role in several organizations including the WHO advisory council for health research, South East Asia Region. Our Executive Chief, Dr. Mahesh Maskey, had the privilege of being mentored by him, and like many others, he is deeply indebted to Dr. Shrestha for his guidance. His legacy will endure, and his values will guide generations to come. Please read the full obituary by Dr. Mahesh Maskey in Nepal Live Today.
Link to the full article:
In addition, we would like to share some heartfelt messages of condolence from other members of NPHF, including Dr. Rita Thapa, Dr. Nilambar Jha, Dr. Aruna Uprety,Dr. Tirtha Rana, and Dr. Chhatra Amatya, who were also touched by Dr. Shrestha's wisdom and kindness.
Dr. Rita Thapa:
I have fond memories of Dr. Mathura since the 1970s up to welcoming him at the WHO Health Assembly Geneva as Nepal's First Health Minister post '90 Mass movement. I was proud to hear him describing how the IOM trained doctors were serving Nepal's rural areas willingly & happily, because of IOM's policy of no lateral entry of aspiring medical students at the World Health Assembly. Everyone, including the top performers, had to start from the certificate level of Health Assistant training & serve a couple of years in Health Posts before applying for MBBS.  Dr. Mathura then earned an ovation at the WHO Assembly, & mine too as a former Chief of Public Health Teaching at IOM in early '70s.
I also cherish a sweet memory of Dr. Mathura in earlier years. I was the then Chief of Nepal's Integrated Community Health System Development Project. At the instruction of the then DG of Health Services, I had to clarify a few things with Dr. Mathura then working at Trishuli Hospital. Not only did he disarm me with his logic delivered in his usual charming ways, but converted me as his advocate with DG. He was a true leader in every sense.
It is the universal truth that we cannot escape from aging, being ill, losing our loved ones, and  facing death, but  the deeds we do here remain with us forever- in this & after this life. Dr. Mathura lived  his life fully doing  good deeds that will make him happy wherever he may be now! With these thoughts, Dr. Bhekh & I offer him our Hardik Shraddhanjali !!
Dr. Nilambar Jha:
I truly agree that it is a great loss for the country & especially for us, following in his footsteps in Community Medicine & Public health. First time I met him, when he came to BPKIHS, Dharan in 1996 to take  my interview for the Assistant professor post. After 30 minutes of interview, he told me that he will help me  to do Dr PH.Iwas surprised to see his vision to have good  manpower for Community Medicine & Public Health in Nepal.
After that, many meetings with great personality Mathura sir, I always found him very simple, positive & encouraging. I offer him Hardik Shradhanjali & pray to God for his soul to rest in peace.
Dr. Aruna Uprety:
Dr Mathura was the teacher who gave us wisdom about public health, social issues, relation between politics and health. His contributions to the 1990 mass movement will be remembered. He also had written many stories and he had shared them with us. I remember him as a very good person, humble, simple  and very loving.
Dr. Tirtha Rana:
Dr. Mathura was a great leader in the history of public health in Nepal. His insights were very well appreciated in the government system when he was Health Minister. He was the first speaker  to start the Public Health Lecture series in Nepal Public Health Foundation. His contribution to the health sector will always be remembered.  Deepest condolence to the bereaved family members.
Dr. Chhatra Amatya:
Thank you for sharing the obituary note of Prof. Dr Mathura Prasad Shrestha. He has touched many lives mentored luminaries in the field of public health and was pioneer of Community Medicine in Nepal.A great humanitarian who loved the country and was always vigilant about the the human rights of the people.Even when he was hospitalized few years back he shared his experience during his illness so that others would learn.
He was ever present for the medical fraternity in times of need and provided support and did not hesitate to challenge the administration regarding the unjust treatment of his colleagues.
My humble tribute to the great soul!
Heartfelt Condolences to the family.