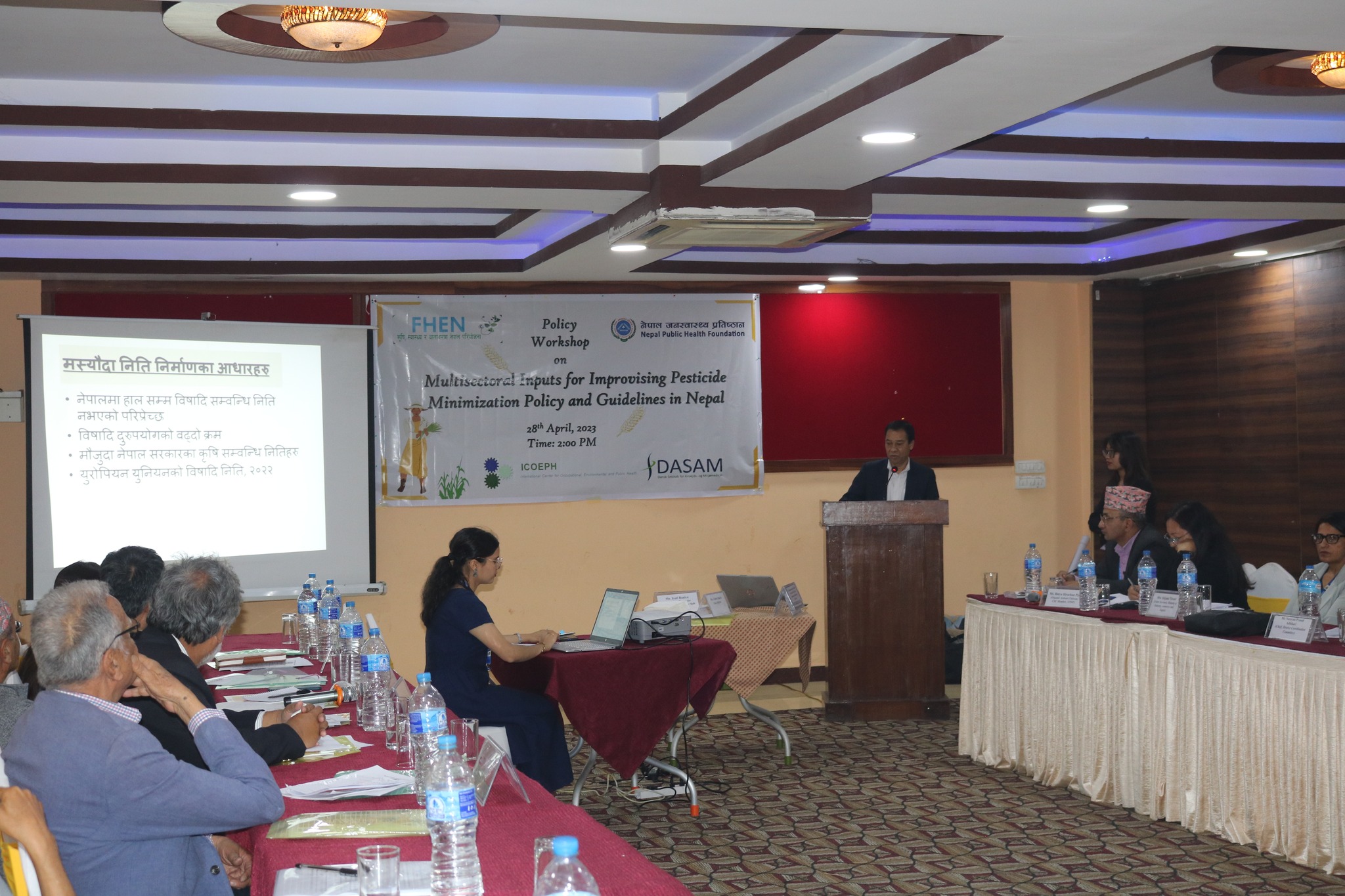 Farming, Health and Environment Nepal (FHEN) project, in collaboration with NPHF and ICOEPH/DASAM, successfully organized an workshop titled "Multisectoral Inputs for Improvising Pesticide Minimization Policy and Guidelines in Nepal" on April 28, 2023. The primary aim of the workshop was to provide a platform for sharing diverse practices and innovative ideas to minimize the use of pesticides in Nepal.
As part of their advocacy efforts, FHEN had prepared a draft Pesticide Minimization Guideline with the objective of reducing the negative impacts of chemical pesticides on humans, animals, and the environment. The guideline emphasized the safe and judicious use of pesticides and promoted the
adoption of alternative methods. To further enhance the guideline's effectiveness, FHEN organized this workshop to gather feedback and reviews from policymakers at all three levels.
The program was designed to achieve the following objectives:
Presentation of draft suggestion for pesticide minimization guideline and get review/ feedback on it.
Discuss evidence gathered from the planning and follow-up meetings at all three levels.
Discuss the need for multisectoral engagement and way forward for the issue of pesticide management.
By bringing together policymakers from different sectors, FHEN aimed to foster collaboration and ensure that the pesticide minimization guideline would receive comprehensive input and support.
Representatives from the Agriculture, Health, and Education sectors of the Federal, Provincial, and Municipal levels participated in this program. The workshop served as a crucial platform for sharing knowledge, exchanging ideas, and creating a roadmap for effective pesticide management in Nepal.