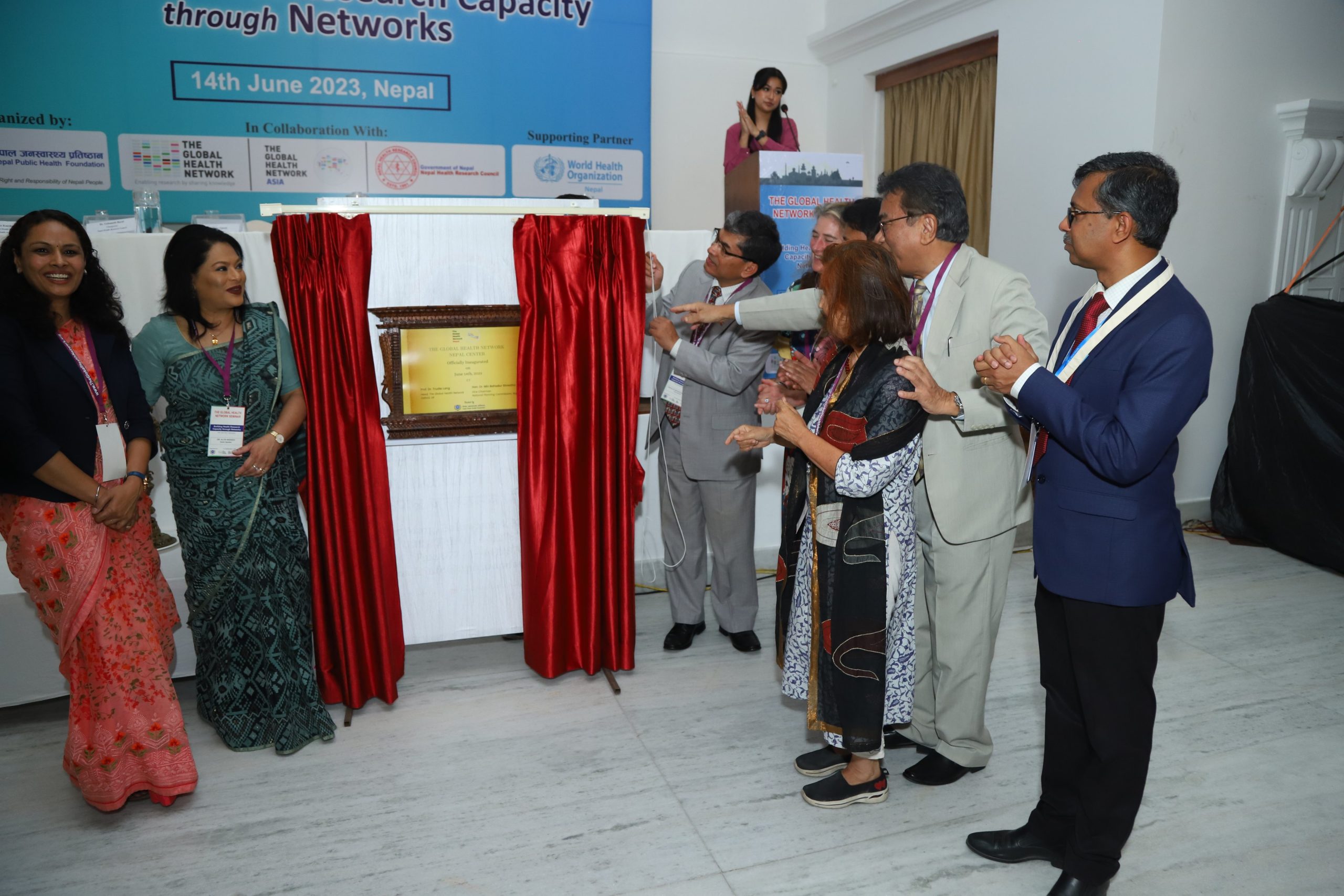 The Global Health Network  Nepal Center has been launched at Nepal Public Health Foundation, Kathmandu on 14 June 2023, officially inaugurated  by Honarable Dr. Min Bahadur Shrestha, Vice Chairman, National Planning Commission  with  Dr.  Trudie Lang, Professor of Oxford University and   Head, The Global Health Network (TGHN). The ceremony was carried out during The Global Health Network seminar on "Building Health Research Capacity  through Networks" by Nepal Public Health Foundation (NPHF) in collaboration with Nepal Health Research Council (NHRC) and TGHN Asia, and supported by WHO Nepal. The seminar was attended by about hundred research scholars and students .The key note speaker was Dr. Vasee Moorthy, Senior Advisor of Research and Development, WHO Headquarter Geneva. Other distinguished speakers Dr. Sangita Kaushal Mishra, Prof. ArunKumar Govindakarnavar  , Dr. Aliya Naheed and Mr. Manoj Bhatta representing Ministry of Health and Population, WHO, TGHN Asia  and Social Welfare Council also spoke during the inauguration ceremony. The sessions were divided into 4 and with altogether 18 national and international speakers.
Global Health Network is a collaborative platform or network that connects individuals, organizations, and institutions working in the field of global health. It has three regional centers in Africa, Latin America and Asia It serves as a virtual space for knowledge sharing, collaboration, and resource mobilization to address global health challenges. TGHN Nepal center is the first country center to be launched in Asia, and this center in collaboration with NHRC is  expected to facilitate in building the research capacity for generating scientifically valid evidence, networking of academia, individual researchers, research institutions, government health system and communities  vital for generating scientifically valid evidence.
Such networking is expected to play a vital role in connecting and mobilizing the global health community to work towards achieving better health outcomes for local populations.    It would  raise its voice against the unacceptable  disparity of  90:10 health research funding  gap funding for research which means 90% of fund goes to  Global North and 10%  for  Global South. The center would support in generating evidences based policy  for monitoring progress towards the health related-Sustainable Development Goals   by 2030.
Vice Chairman, National Planning Commission by Honourable Dr. Min Bahadur Shrestha remarked "The seminar topic is very pertinent and timely not only for Nepal but for regional and international cooperation. I am impressed by the range of ideas  deliberated and fully concur with the speakers about the importance of networking of academia, researchers and government institutions for building health research capacity."